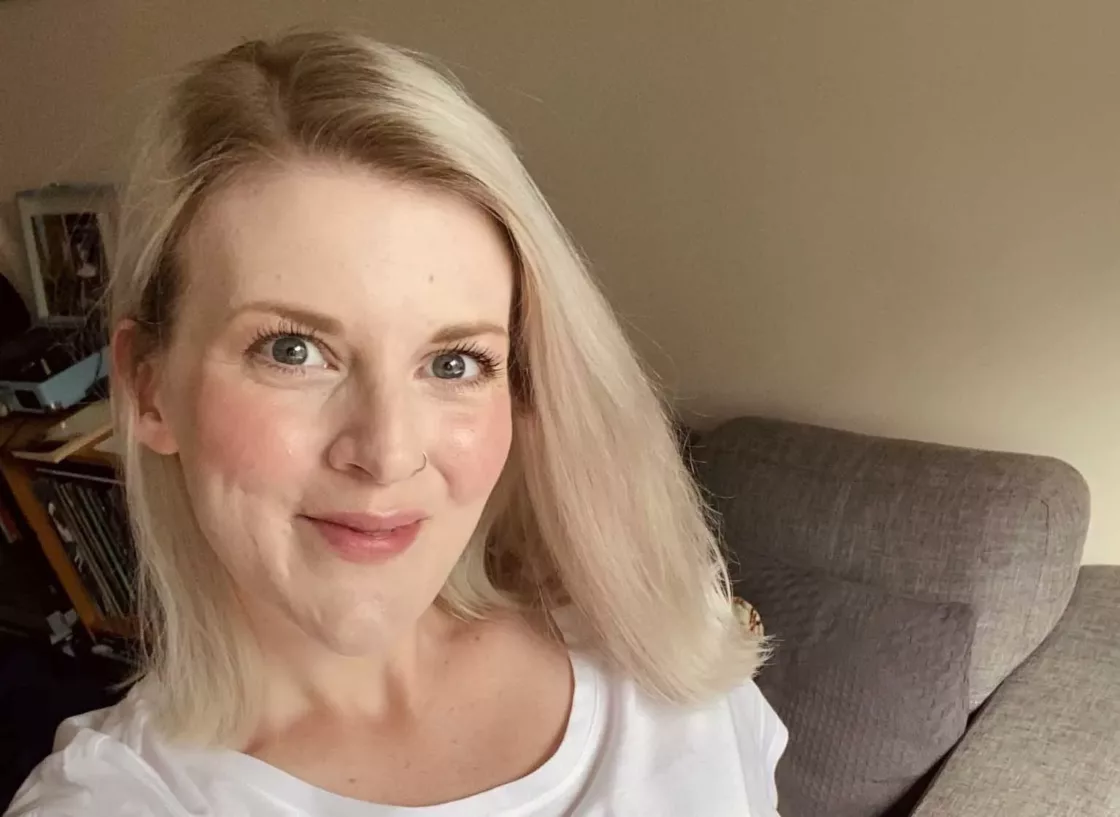 Hi Sara, could you tell us a bit about yourself?
I'm Sara, I'm 31, healthy, and found a lump in my boob around the same time that UK lockdown was beginning, that has since been diagnosed as breast cancer.
What prompted you to contact your GP?
Because I had had a lump previously, I checked my breasts regularly. When I was checking earlier this year, I noticed a hardening – not necessarily a distinctive lump, but something different. This was around the same time that we went into lockdown – it wasn't that I purposely forgot about it, but like a lot of other people, my mind was suddenly filled with anxieties about everything else that was going on at the time.
Then a couple of months later, when I was putting on my bra, I noticed a bit of a dent and suddenly it was back at the front of my mind. It was clear that it hadn't changed and that it wasn't going away.
I gave myself every possible reason to ignore it, it didn't feel like the lump I had last time – it turned out to be nothing last time, surely it will just be the same again. I didn't want to bother a busy doctor with that.
I thought of every possible reason that I could clutch at to avoid getting it checked, but then I remembered seeing a CoppaFeel! post that said "Knowing your boobs could save your life. If in doubt, get it checked out". 

Something inside me stopped and I knew right then that no matter how scared I was of this, and no matter how scared I was of the Covid-19 situation, I could not ignore this anymore.
I made an appointment to have a phone consultation with a GP who referred me to a breast consultant.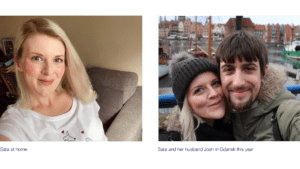 You were referred to the breast consultant whilst we were still in lockdown, did you have any worries? 
The idea of seeing another person filled me with anxiety. I had been tucked up safe, working from home with my husband, not seeing anyone else for over 2 months by this point, but I knew I had to.
From that point on everything happened so quickly. I had an examination, ultrasound and biopsies. They phoned me later the same day to ask me to come in for another scan – a mammogram this time – and told me that my consultant would like to see me again. I remember feeling a bit sick because this hadn't happened last time. I reassured myself that I was 31, they're just being extra careful – surely they wouldn't know anything that quickly.
I went back in 2 days later and as soon as I had sat down they told me that it was breast cancer. I think at that point I just went numb. After a short time the tears came, a lot of tears. I didn't know what to say. 
The only thing I could remember saying was "I'm so glad I came." If I had left getting checked until the world felt 'safe', it could have been a totally different situation.
The hardest part was having to tell everyone else. I hadn't told anyone other than my husband and my Mum that I had an appointment because I felt so sure it was going to be okay – I didn't want anyone to worry unnecessarily.
I almost felt guilty having to tell everyone – I didn't want anyone to worry about me. But trying to keep it to myself left me feeling a little bit lonely – I was scared to message anyone in case they asked how I was. I found that people knowing actually made it a little easier to deal with, it was like accepting it was happening to me. I have to face it, but luckily I have an amazing virtual support system around me.
Have you started any treatment since? How is it going?
My treatment plan has started with 6 rounds of chemotherapy treatment and targeted antibody treatment to tackle the HER2 protein. Then they will follow with surgery and radiotherapy.
At first when they went through the treatment plan with me it felt overwhelming. I didn't think I was a strong enough person to be able to get through all of that, but personally for me the best way has just been to break it down. I try not to think about everything in its entirety and just focus on one scan or treatment at a time. For me, that makes it feel much more manageable, but I know everyone has different approaches – this just works for me right now.
I had my first round of chemotherapy in July – the actual treatment day was a lot less scary than I had imagined, I think mostly due to the fact that the nurses were all so wonderful. They explained everything so clearly, I felt informed and they made me feel safe in what, to me, felt like a very scary time.
Some things have changed because of Covid – my oncologist offered a telephone consultation where we could put her on loud speaker so my husband could listen too. In the hospital, even without my husband there, the nurses have been really supportive – I felt very taken care of. Video chats have also been very helpful in those isolated moments.
My biggest help has been the care and support of my husband, family and friends. Even though not all of us can physically be together, they have made sure I have felt loved and supported throughout this journey.
Seeing similar stories on CoppaFeel!'s channels has really helped since my diagnosis. It's nice to know you aren't alone.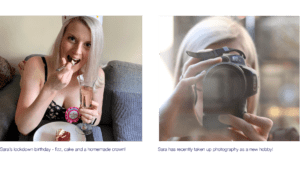 Have you got any advice for anyone who might be in a similar situation to you?
Above anything else, my advice will always be to get to know your body. If you are ever in doubt…get it checked out! Yes, even if there is a global pandemic! You are not wasting anybody's time – this is their job and they're there to help.
There are so many scary stories in the media at the moment which can be disempowering. You see these figures about backlogs in cancer treatment and you don't want to add to that strain, but getting checked is so empowering – even if it's nothing, it can feel powerful just to know that for sure.
I think one thing you learn through all of this, is that nothing is guaranteed. You never know what's around the corner, so yes, live within your means, but don't put everything off until 'the right time'. If something is important to you, then find a way to make it happen.
I always try to live with a grateful heart, and this experience heightens that. I wish this wasn't happening, but it is. I can't control that diagnosis, but I have so much in my life that I am so very grateful for.
For me, that's what's getting me through – breaking this down into manageable parts and the whole way through focusing on those happy moments. I'm trying to fill my life with as much laughter as I can in between those slightly tricker parts.
If you are in doubt, don't put off seeing your Doctor because of the current situation. There are measures in place to protect you …. but they can't help you if they don't know. 
If you are worried about an unusual change in your boobs or pecs during this period, the NHS still wants to hear from you. GP surgeries are open and ready to take your call. 
To find out more about contacting your doctor during the pandemic, listen to Dr. Beth Lynch explain why it is still important to get any changes checked out.