Claire was 23 when she was diagnosed with breast cancer after discovering a lump during a self-check in the shower. She emphasises the importance of seeking support and being proactive in self-checks and encourages others to deal with their experiences in their own individual way. Claire's journey has inspired her to cherish life and find positivity in each and every day.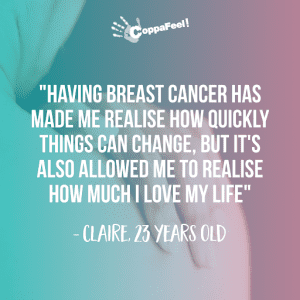 One evening I was checking myself in the shower as I always do, but for the first time, I felt something different – a lump that felt small and hard, which made me remember I had also been having breast pain for the last couple of weeks. At the time I had just assumed it was hormonal, so I decided not to stress myself out over it. Coincidentally, my boyfriend happened to be around mine when I discovered it, so I got him to double-check it and he agreed he could feel a lump too. 
The reason I had been checking so regularly was down to CoppaFeel!. I first learned about them about 10 years ago from a poster displayed in my local GP. I had also watched Kris's documentary on TV and realised it was Kris who actually founded CoppaFeel!. This knowledge encouraged me to check regularly and is ultimately how I discovered my lump so quickly, as I immediately knew something felt different from usual.
Given my family's medical history, with my grandmother having stage 3 ovarian cancer and both my mother and aunt carrying the BRCA mutation, my boyfriend encouraged me to make an appointment with the doctor. At that point, my knowledge of breast cancer was very limited, and I knew that it could affect people in their 20s sometimes but it wasn't common – I just assumed it only affected people in the later stages of life. For this reason, I was a bit skeptical to make a GP appointment but luckily my boyfriend's support and persistence pushed me to make that call. Now, looking back, I want to reassure anyone who might be in this position, to know you're never wasting anyone's time by seeing the doctor; it is always better to get it checked when in doubt. 
During my appointment with the nurse, she said she could feel a lump and a second one slightly further down towards my nipple. Although she acknowledged that the pain could be hormonal, she decided to refer me to the two-week wait list due to my family history. A week later, I was at the hospital for my follow-up appointment. Initially, the consultant couldn't feel anything and appeared relatively unconcerned, however, as a precaution, he sent me for an ultrasound and marked the two areas of concern with big circles. During the ultrasound, the technician said she could see something so sent me back to the consultant with a copy of my ultrasound and strongly advised me to have a biopsy. The consultant seemed shocked I'd returned but read the technician's report and seemed more alarmed when he looked at the scan. I was sent away for lunch and told to return that afternoon for the biopsy and that I should bring someone with me. 
I was nervous so I met my boyfriend for lunch but I didn't have much of an appetite. We then went back to the hospital for the biopsy and by this point the receptionist at the breast clinic had stopped asking for my name as she'd seen me so many times throughout the day! The biopsy itself was relatively straightforward, I just felt a slight pressure and then it was over. A week passed and I had a phone call to say that they needed to see me again in the clinic.
My boyfriend and I walked into the reception two days later and were ushered into a quiet room; I told him this must be bad news if they're not allowing us to sit with everyone else. He told me not to be so silly."
The consultant walked in with a breast cancer nurse, he looked at me and said the biopsy had shown a lot of abnormal cells along with the ultrasound. I asked outright if it was cancer and he said "yes I'm so sorry but it is cancer". My immediate reaction was what do we need to do to get rid of it? I was told surgery was the first step and then a five-year course of tamoxifen. I'm one of the lucky ones that although the two lumps were sizeable (7cm and 5cm respectively) it hadn't affected my lymph nodes or spread anywhere else. The mastectomy went well and my recovery was good. Tamoxifen is my new friend. 
Telling the family was the bit I was dreading. I kept it quiet from some of them as I wasn't sure how they'd take it and I didn't want to worry anyone. When I told them, there were some tears but most of all love and support. I am so grateful for their unwavering support; I honestly don't know how I would have managed to get through without them and their ability to always keep my spirit high."
I have also felt so lucky to have the support from St Margaret's Hospice, they offered me physio, counseling, nurse specialists, and most importantly… cake! There's always cake and some days when you're in a slump, that was one of the most important things to me. At first, the hospice was not a place I wanted to go but after a couple of sessions, I learned how important it was to my recovery – I met people who were going through similar experiences to me, and on top of this, they provided a space for my boyfriend to speak to other partners so that he felt less alone too. They also offered some amazing complementary therapies such as massages and reflexology and even to this day, I still get regular support from them.  
My bit of advice to anyone going through this is to make the most of any support you can, whether that's friends, family, hospice, or anything else. They are offering support because they care and love you and that's so important to remember when you're feeling like poop some days. Six months down the line and I'm learning to get on with my life. I'm now going to be having 6 monthly scans to check I'm still all clear and that the tamoxifen is doing its job.
CoppaFeel! played a crucial role in my journey. Their monthly texts and Instagram stories are what prompted me to perform regular checks and what ultimately led to the early detection of my lumps. With this habit of self-checking, I have become super confident in knowing what looks and feels normal to me.
Without CoppaFeel! I might not be here today so I urge everyone, regardless of age or gender, to make regular chest checks a priority in their lives."
I just wanted to end this with saying, having breast cancer has made me realise how quickly things can change but it's also allowed me to realise how much I love my life. Before having breast cancer, I sometimes struggled to find a positive at the end of each day but now I try to look for at least 3 positives a day, however small it might be. My piece of advice to another person going through this is to deal with the situation however you want, there is no right or wrong way to do it. As much as people may suggest certain things it's your experience and you should deal with how you want to. 
Claire x
For more information on the signs and symptoms of breast cancer and how to check yourself click the button below: